Filter by Subcategory
Professional Development
Notary Public Prep Course
with Sandra Packard

Apr 26, 2023 at 6 pm
The Notary Public Prep Course prepares attendees for the Notary Public Examination through the NYS Division of Licensing Services.
This 3 hour course will help guide you through the knowledge and lingo needed and will give you all the details of how, where and when to take the exam to become and Notary Public!
Online Registration Unavailable
NY Real Estate License Prep Course
with Mbition - FLCC
FLCC's training partner, Mbition, offers real estate license courses that are professionally designed in an interactive, user-friendly format, to help you quickly master your state's licensing requirements to become a licensed real estate agent or broker. The 75-hour New York Real Estate Pre-licensing Silver solution satisfies New York's education requirement for the salesperson exam while also providing excellent exam prep. 
For more information, or to register follow the link below:
https://partners.mbitiontolearn.com/real-estate/new-york/real-estate/new-license?partner=1600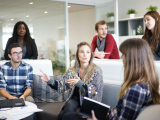 Online Registration Unavailable
Professional Development
In today's workplace, it takes more than job knowledge to be successful. Learn how developing communication skills, emotional intelligence, teamwork, time management and other Professional and Personal Skills can take your career to the next level.
Broaden your personal and professional interests during a time that is uncertain for many. Explore options to advance your job credentials, deepen your marketability, and gain professional development — all in a trusted and convenient online environment.
Through partnerships with nationally-recognized providers, a wide variety of online courses and trainings are available to you.  Search our short-term career and personal development offerings here:
As easy as online shopping, simply select the course you want to take and checkout.  6 weeks, 6 months, self-paced, or instructor-led, you're sure to find something to fit your interests and lifestyle! 
Customized training tailored to your business's unique needs is also available, including industry specific professional development that is required to keep certifications or credentialing in New York State. Contact us at the link below to request more information from one of our Custom Training Specialists: